How looking away prevents pedestrian collisions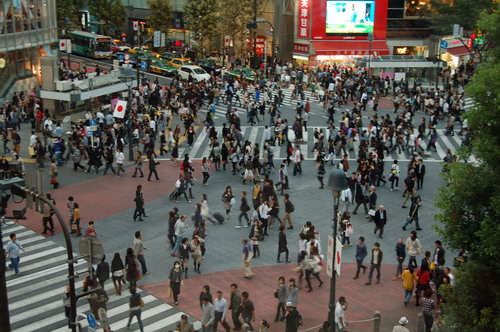 One day a friend and I were briskly strolling along a mall corridor, engaged in conversation, until something quite hilarious happened. A burly gentleman was quickly approaching my friend's direct line of trajectory. She and this man had to make either one of two choices; move to the left or to the right to avoid a disastrous collision. Simple, no? And so I thought. With about a foot between them, my tiny-sized friend and this large stranger began this seemingly unending, and surprisingly well-coordinated dance (or if you're an avid sports fan, picture
Spud Webb
desperately trying to drive on
Shaq
) one mirroring the others' movements, swaying back and forth, side to side. Both were a bit confused as to which direction to settle on, and for an estimated 5 seconds I stood there in utter disbelief, witnessing this extremely awkward, yet ridiculously entertaining situation.
How do we avoid catastrophes like this from happening on a daily basis? And if navigating through a mall corridor without incident is THAT difficult, how does the multitude of pedestrians in somewhere like Manhattan manage to avoid such annoying or, in my friend's case, embarrassing encounters? Inattention and "
mind-blindness
", an inability to develop an awareness of what is in the mind of another human, would seem to be the main culprits. However, there's bit more to it than that and it involves eye gazing.
Nummenmaa, Hyona, and Hietanen over at the University of Tampere in Finland have further shed light on the science of oculomotor activity while walking. In their paper, published in the most recent issue of Psychological Science, they investigated how participants predicted where an oncoming pedestrian was going to move by using information found in that pedestrian's gaze. More specifically, they wanted to test whether humans use others' gaze information to avoid collisions during locomotion and to assess how ones' own gaze direction is influenced by the approaching pedestrian's gaze behavior.
The researchers had 35 university student participants view a computer generated male walking toward them either looking to the particpants' left or right. The scene also moved constantly forward, giving the participants the impression that they were moving. Eye movements were recorded with a digital eye tracker. The participants were to answer whether they would skirt the pedestrian by moving to the left or right using a differential button press.
Is it just me or does this guy look like he's about to do something extremely shady? (click image to enlarge)