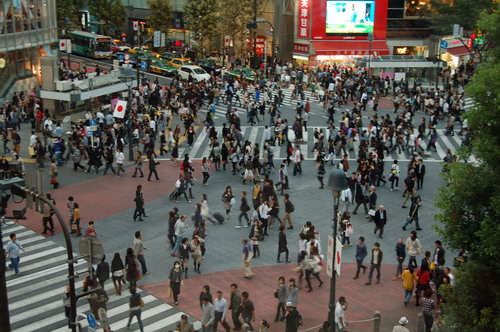 One day a friend and I were briskly strolling along a mall corridor, engaged in conversation, until something quite hilarious happened. A burly gentleman was quickly approaching my friend's direct line of trajectory. She and this man had to make either one of two choices; move to the left or to the right to avoid a disastrous collision. Simple, no? And so I thought. With about a foot between them, my tiny-sized friend and this large stranger began this seemingly unending, and surprisingly well-coordinated dance (or if you're an avid sports fan, picture
Spud Webb
 desperately trying to drive on
Shaq
) one mirroring the others' movements, swaying back and forth, side to side. Both were a bit confused as to which direction to settle on, and for an estimated 5 seconds I stood there in utter disbelief, witnessing this extremely awkward, yet ridiculously entertaining situation.
How do we avoid catastrophes like this from happening on a daily basis? And if navigating through a mall corridor without incident is THAT difficult, how does the multitude of pedestrians in somewhere like Manhattan manage to avoid such annoying or, in my friend's case, embarrassing encounters? Inattention and "
mind-blindness
", an inability to develop an awareness of what is in the mind of another human, would seem to be the main culprits. However, there's bit more to it than that and it involves eye gazing.